The Cooper Tires Invitational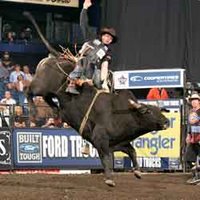 For the 3rd time this month I went to the Allstate Arena. Today's Professional Bull Riding event was far more eventful than I remembered from Anaheim – the main reason probably being that more riders seemed to get seriously injured. One rider broke his cheekbone and eye socket, another had a concussion, another rider was carried off on a stretcher after a bull bucked him into the gate, and a couple other riders were dragged around by their foot when their rope did not come undone as planned.
You can compare the injury reports from each PBR event by clicking on each
Box Score
.
I found a woman with an extra ticket as she was entering the arena. I thought she was giving me a $30 ticket for free, but balked when I said thanks for the ticket. She asked for $20 but I told her I was only planning to pay $10. She reluctantly accepted $10. The Arena operators raised parking from the usual $11 to $15 for today's event.
Labels: Professional Bull Riders