AFC Divisional Playoffs: Ravens at Colts
After sprinting to Lucas Oil Stadium, my ticket was scanned and I entered the stadium. I heard over the speakers there was 12:39 left in the first quarter. I left the Pacers game with 2:24 left and I was in Lucas Oil Stadium after 2:21 – pretty much as even as I could have hoped. 30 seconds later I was looking at the scoreboard as I stood in the concourse overlooking the end zone where Matt Stover kicked his first field goal with 10:44 left in the first quarter.
Secondary Ticket Market
I may have made a mistake in buying my ticket before the Pacers game. There were plenty of extra tickets available from scalpers as I ran from Conseco Fieldhouse to Lucas Oil Stadium. Even though it would have taken a minute or two more, I probably could have beaten the $50 I paid for a limited view seat. If nothing else, I would have bought a real seat for the same price.
Limited View and SRO at Lucas Oil Stadium

I realized my seat was obstructed view and I could see my possible seat – behind a pole (here is a picture of my actual seat I took towards the end of the game).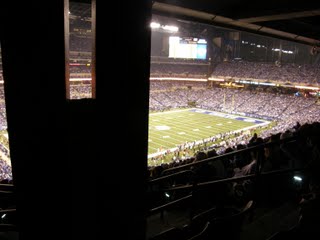 Thus, I headed towards section 632 – where a friend of mine was sitting. On route I tried stopping in a couple standing room only areas. The first was where I watched Stover's first field goal on the lower level. However, this area was viable as fans sitting in front of the standing room only section would stand up during exciting plays and block my view. The same thing happened in the upper deck standing room only area, so I moved along toward section 632.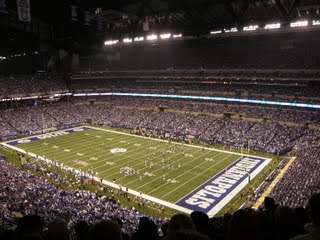 Just below section 632 there was an empty area where nobody was standing except for a few fans. This was a great spot for me as I realized most of the other fans seated in my same section (420) also left to find another place to either sit or stand. Under normal circumstances I would have found a place to sit in the upper deck but this was a pretty good spot to watch the game so I stuck around (plus I could chat with my friend at halftime and sit near him when there was a seat available next to him).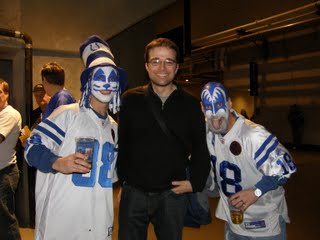 The Game
The Colts buried their bye-week demons and defeated the Ravens 20-3 to advance to the AFC Championship Game. The deciding drive occurred when Peyton Manning hit Reggie Wayne for a three yard touchdown pass with three seconds left in the first half. Wayne stretched for the end zone to give the Colts a 17-3 lead heading into halftime.
The play of the game occurred after Ed Reed intercepted Manning in the third quarter. Pierre Garcon stripped Reed of the ball after the 38 yard return and the Colts' Dallas Clark recovered. In the end, the Colts technically lost 17 yards on the play as the ball was now on the 28 yard line instead of the 45 – but it was still first down.
Reed lost a second interception five plays later as Corey Ivy was called for a pass interference penalty.
Labels: Baltimore Ravens, Indianapolis, Indianapolis Colts, NFL