An unusual All-Star Break event: Madison, WI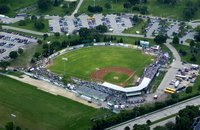 It's the All-Star break for Major League Baseball. Generally that means, unless you are attending the All-Star festivities in New York City, cities' sports events' calendars are sparse (unless the WNBA happens to be playing).
Since we were driving back from Minneapolis to Chicago on Monday, I looked for events taking place in Wisconsin cities that were on route. Those cities included Eau Claire, Madison and Rockford, IL (we could detour to Milwaukee if necessary). Madison, WI was hosting the Northwoods League All-Star Game on Monday night starting at 7 pm – a perfect breaking point from our 7 hour drive (4.5 hours from Minneapolis and 2.5 hours from Chicago).
For those who are unfamiliar, the Northwoods League is a sanctioned Summer Collegiate Baseball League – meaning any player with at least one year of college eligibility remaining can participate in the league. The players are unpaid in order to keep their amateur status. I actually attended a Northwoods League game back in 1996 when I worked in Kenosha, WI. Kenosha no longer has their team but the league seems to be thriving with 14 teams mainly located in Minnesota and Wisconsin.
I knew the cheapest tickets to the event were $7 and that in order to keep the wife happy I would need to spend more than that. As I walked to the box office, a man asked me if I needed extra tickets. As I always do, I entertained his offer. He stated he had tickets for $10 each. Then added "It's all you can eat and drink." That sounds like a bargain I thought. We were planning to eat in Madison after the game, so I hesitated for a second before buying the tickets, but realizing the face value was $25 and that beer was included, I immediately handed the man a $20 bill.
The park had all the features of a classic Class-A ballpark. Nicole and I headed to the Duck Blind section. We were carded to enter and handed one cup for the evening (don't lose your cup or it will cost you an extra $3). Beer highlights included: a green colored, "duck pond" brew and "bitter woman ale".
The section we sat in was a cross between a press box and a picnic area. Picnic tables and seating were situated towards the game, but you could walk around freely. We had happened to stumble onto one of the better deals in baseball and only for a cost of $10. Of course, the talent on the field was less than desirable but the atmosphere in the outfield made for a great summer evening.
Labels: Northwoods League