Handicapped Seating (with a Baby) at U.S. Cellular Field
Dylan and I were once again home together on a Sunday with the Ultimate Sports Wife still working on her dissertation. So rather than sit at home all day, I put him in the car and drove to U.S. Cellular Field for the afternoon game.
Parking
We paid $23 to park in the parking lot which is much easier than putting him in the stroller and taking the train to the Southside.
Beg, Borrow and Deal
I ended up buying a lower level seat for $20. The seat was in section 122, row 14.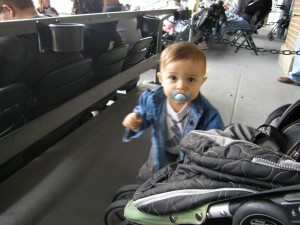 Handicapped Section
Instead of sitting in my seats, I asked the usher if I could stand in the handicapped seating behind the section (I learned this trick at the San Francisco Giants home opener on April 8). The usher said no, but I asked to speak with her manager. She said to walk over to guest services to ask who said it would be fine. Remember ushers are there to enforce the rules – management is the ones who can bend them.
Being in the handicapped section is the best spot for the Ultimate Sports Baby as I can watch the game and he can explore the area.
Baltimore Orioles at Chicago White Sox
The White Sox lost their third in a row to the Orioles 6-4. It should be a three-game sweep but the Orioles and White Sox are finishing up their four-game wrap-around series on Monday night.