Smirnoff Bar at United Center: Pacers at Bulls Game 5
As was the case last week, I planned to skip Tuesday night's Cubs game in order to attend the Chicago Bulls playoff game versus the Indiana Pacers.
Beg, Borrow and Deal
On Sunday night, at the Blackhawks playoff game, I bought a SRO ticket for $40 from the box office. I figured it would be difficult to beat the $40 price point buying a regular seat, so having a ticket would save me time looking for tickets before the game.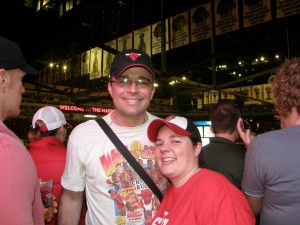 Smirnoff Bar
Also, as it turns out my friend Kelly McMahon was attending the game. She planned to stand in the Smirnoff bar on the 3rd level so it did not matter whether I had an SRO ticket or not. Even though the official policy is that you need a 300-level seat (not SRO) to stand in the bars in the 300-level, Kelly was not going to let this rule effect her. Instead she bought SRO tickets and requested PDFs rather than hard tickets. This allowed her to change the ticket's location to a 300-level seat rather than SRO. I did not argue with this strategy as it allowed me to stand in the bar rather than try to find a seat somewhere in the upper level. Plus, the bar is a great place to watch a game at the United Center.
Indiana Pacers at Chicago Bulls
The Bulls crushed the Pacers 116-89 in Game 5 to win the series 4 games to 1 and advance to the Eastern Conference semifinals for the first time since 2007. Derrick Rose led the Bulls with 25 points.