NHL Playoffs on Easter Sunday: Canucks at Blackhawks Game 6
This will be the only time I am ever able to attend two sporting events on Easter Sunday – the benefits of Nicole working on her dissertation all day. At least she had the heart to work on it at home so I could attend the Blackhawks playoff game.
Beg, Borrow and Deal
Tickets were not that easy to come by since fans thought the Blackhawks could actually come back from a 3-0 deficit versus the Canucks. I ended up paying $95 for an $85 face value ticket. The guy said he paid $100 from a scalper, but then found out he had a ticket from a friend of his. Since most scalpers I found wanted much more than $100, I decided this was the best deal I could find.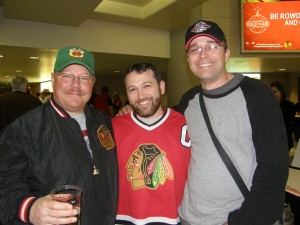 Vancouver Canucks at Chicago Blackhawks
Blackhawks' Michael Frolik tied the game 3-3 on a penalty shot early in third period. With that goal, the Canucks and Blackhawks went to overtime to determine whether the Canucks would advance to the next round of if the Blackhawks would force a Game 7 back in Vancouver. The Blackhawks scored with 4:30 left in overtime to become only the seventh team in NHL history for force a Game 7 after trailing in the series 3-0.