Easter Sunday at Wrigley Field: Dodgers at Cubs
As I wrote three weeks ago, I love April doubleheaders including Wrigley Field and the United Center. It's even better when it includes a playoff game.
Nicole was back working on her dissertation since it is due in about a week. So the Ultimate Sports Baby's first Easter Sunday was spent at Wrigley Field. However, this time he had a play date as one of our friends were there with their 16 month old.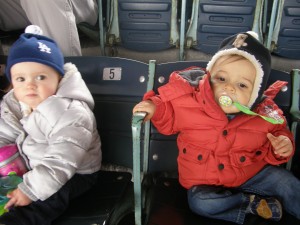 Los Angeles Dodgers at Chicago Cubs
The Dodgers scored 5 runs in the first inning which proved to be too much for the Cubs as they lost 7-3.