Father-Son Evening: Houston Dynamo at Chicago Fire
Dylan was driving me crazy at home after the Cubs game, so I put him in the car and drove to Toyota Park for the Chicago Fire game. I had every intention of putting Dylan to bed and hang out at home. But, at this point in his young life, the Ultimate Sports Baby loves to wander around. And, he is safer doing so at a sports stadium than our home. So this was another opportunity for him to do so.
Beg, Borrow and Deal
I pulled into the Toyota Park parking lot and was met by a scalper who had a stack of tickets. He asked for $10, but I only had a $5 in my pocket (more in my wallet) and he accepted.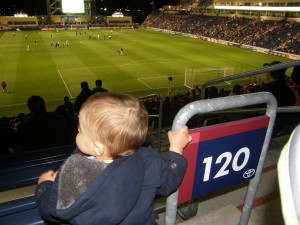 Houston at Chicago
As he did at Wrigley Field, Dylan continued exercising his new found skill and walked around Toyota Park. Houston scored the equalizer in the 83rd minute as the game ended in a 1-1 draw.