NHL Playoffs: Canucks at Blackhawks Game 4
I missed the first Chicago Blackhawks home playoff game on Sunday night when I was flying back to Chicago. So there was no way I was going to miss Game 4 (the Blackhawks second home game) especially with the Blackhawks down in the series 3-0.
Also, I don't think there is anyway Game 6 will be played back at the United Center so this is the only Blackhawks playoff game I will attend this season. For the second night in a row, I planned to miss the Cubs home game for a playoff game at the United Center. But, tonight's Cubs game was rained out around 5 pm so even if I had planned to attend the Cubs game, I would have ended up at the United Center.
Beg, Borrow and Deal
Tickets for the game were cheap on StubHub with SRO tickets selling for around $20 each. However, Hospitality Jim called me a few hours before the game was supposed to start saying he had an extra ticket for the game. His son (pictured in the suit) was invited by Rocky Wirtz's son (they went to high school together), which opened up the ticket for me. So even though I felt I screwed up buying tickets for the San Jose Sharks second playoff game, one reason not to buy tickets ahead of time is the last minute invite.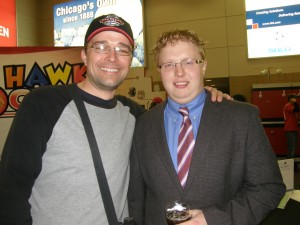 Pre-Game Dining
I met Hospitality Jim at Haymarket Pub & Brewery located at 737 W. Randolph. The restaurant is not that close to the United Center but is on route to the arena from the highway. The brewery brews their own beers and has several others on tap. There is no discount for ordering a bigger beer as they charge the same price for every four-ounce pour.
Vancouver Canucks at Chicago Blackhawks
I was super negative throughout the game thinking the Blackhawks would never win Game 4. However, I was clearly wrong as Chicago crushed Vancouver 7-2. In his first game back from a concussion, Dave Bolland scored a goal and had three assists. Roberto Luongo was pulled four minutes into the third period after giving up his sixth goal of the game.