NBA Playoffs: Pacers at Bulls Game 2
I flew back to Chicago Sunday night in order to be back in time for the Chicago Cubs second home stand of the season which started Monday night. However, both the NBA and NHL Playoff schedules came out while I was in San Francisco, so I missed the Chicago Bulls opening round playoff game on Saturday afternoon.
So even though I just got back from a 10-day trip to San Francisco and the Cubs were home at Wrigley Field, I was planning to attend Game 2 of the Pacers and Bulls first round series. It was a rare 8:30 pm tip-off, which benefited me since I could put the Ultimate Sports Baby to bed and have the wife get home from working on her dissertation before driving to the United Center.
Pre Game Dining
I parked on Washington Blvd. and Paulina St. before walking to Billy Goat Tavern on the corner of Madison St. and Ashland Blvd. Billy Goat Tavern is my favorite place to go before a game as the food is good, prepared quickly and they serve beer.
Beg, Borrow and Deal
I walked towards the main ticket office at the United Center where I generally find good prices for tickets. I found one of the scalpers I know and he sold me a season ticket holder ticket for $50 (face value was $55). I probably could have done better but did not feel like wandering around the arena too much.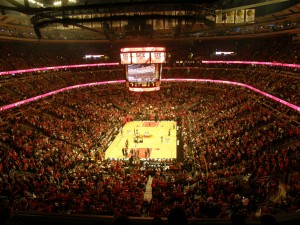 Indiana Pacers at Chicago Bulls
The Bulls took a 2-0 lead in the series defeating the Pacers 96-90. Derrick Rose led the way scoring 37 points while Carlos Boozer scored 17 and had 16 rebounds.