NHL Playoffs: LA Kings at SJ Sharks Game 2
After going back to San Carlos for an hour, my Dad and I were off to Game 2 of the Kings and Sharks playoff series.
Beg, Borrow and Deal
Since there were a few fans selling tickets outside of the arena on Thursday night, I chose to see if there were fans selling on Saturday night and not walk downtown to find any scalpers. That was a big mistake as there was nobody selling extra tickets around HP Pavilion.
The cheapest tickets on StubHub before the game were between $50 and $60. I chose not to buy those thinking we would beat that price outside the arena. My Dad did not want to walk all the way back downtown (which is about 15 minutes one way) to look for ticket scalpers so we ended up buying two tickets from the box office for $104 each. In the end, I was thankful the box office still had tickets available. Once we were in our seats we sat next to two season ticket holders whose face value was $64 – the same price level I would not pay more than $50 for Thursday night.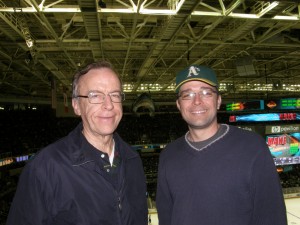 Los Angeles Kings at San Jose Sharks
Tonight the Kings did not mess around, shutting out the Sharks 4-0 to tie the series at one game apiece.