NHL Playoffs: LA Kings at SJ Sharks Game 1
My second sporting event for Thursday was the San Jose Sharks opening round playoff game versus the Los Angeles Kings. After the golf tournament, I dropped the Ultimate Sports Baby off at my parent's house and drove down to San Jose for the game.
Beg, Borrow and Deal
In the past there have been plenty of scalpers outside of HP Pavilion. However, tonight there were no scalpers outside of the arena. They must have been downtown which is in the opposite direction from where I parked.
There were some fans who were selling tickets. One guy had a season ticket holder ticket with a face value of $64. I went back to him a few times with my maximum offer at $50. He refused to accept anything less than $60. I finally found a guy who had a season ticket holder ticket with a face value of $105. I offered him $80 for the ticket and he accepted.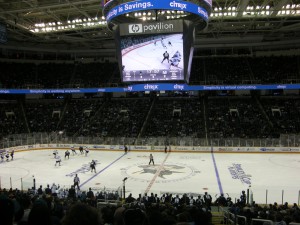 Los Angeles Kings at San Jose Sharks Game 1
The seat I bought was excellent. It was in section 101 – right on the blue line. The game went to overtime as the Kings and Sharks were tied 2-2 after regulation. With 5:16 left in OT, Joe Pavelski scored for the Sharks to give them a 1-0 lead in the first round series.
Post Game
After the game I wanted to go out around the arena. Rather than walk to downtown San Jose, I walked towards the Poor House Bistro (a place I noticed when I went to the SAP Open two months ago) but it was closed. I continued a little further and saw Patty's Inn on the corner of Montgomery St. and San Fernando St. Patty's Inn is a dive bar, but was packed after the game.