The Birds Nest: Fresh Express Classic
After spending Wednesday at my parent's house, Thursday was a doubleheader day. Once again both my parents were planning to work, so I brought the Ultimate Sports Baby to his first golf tournament – the Nationwide Tour's Fresh Express Classic. I was concerned about brining Dylan to a golf tournament where the absence of sound is of the utmost importance, but when I called the tournament they told me all were welcome.
The tournament was held at the TPC Stonebrae in Hayward across the San Mateo Bridge from where my parents live. Dylan woke up early Thursday morning, so I fed him breakfast and we were off. We ended up being one of the first people on the golf course.
Beg, Borrow and Deal
As with any lower level event there is no secondary ticket market. And when tickets are only $10 each it does not really matter. Parking was $5.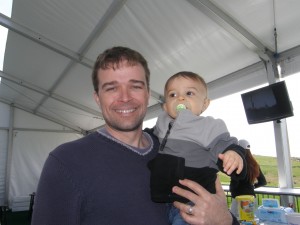 TPC Stonebrae
I walked the Ultimate Sports Baby around in his stroller for awhile but he started to get antsy sitting for so long. My original plan was to have him run around a large grassy area away from the players. But the grass was wet from the overnight fog and I could not find a big enough area close to the club house.
Instead, I sat in the Bird's Nest located at the ninth hole. This area was awesome and was the best place for both of us. I could watch the players approach shots and putting on the 9th hole and Dylan could walk around in a relatively safe area. Plus, for every birdie, beers were $3 for five minutes – a good deal at any sporting event.
Fresh Express Classic
When we first arrived at the tournament I made it to the 10th tee. To my surprise Jerry Rice was teeing off who turned out to be the tournament's host. Jerry Rice shot an 81 – tied with David Lutterus for the worst score of the first round. I stopped following Rice after I realized walking the golf course with a stroller was not the experience I wanted.
As for the real golfers, Andrew Buckle had a one stroke lead after the first round shooting a 64.