Bay Area Doubleheader Day: Kings at Warriors
We had to drive to AT&T Park so we could drive across the Bay Bridge on our way to Oakland for the Golden State Warriors game. Since we had time before the 6 pm tip, we stopped for dinner at Everett & Jones BBQ in Jack London Square. This was the same restaurant we ate at on October 1, 2003 in between Giants and Athletics divisional series playoff games.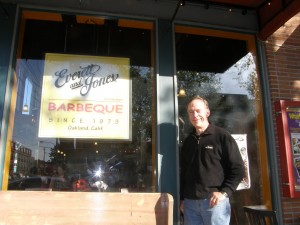 Beg, Borrow and Deal
My Dad wanted good seats for the Warriors game so I had my work cut out for me. Most of the tickets the scalpers had were in the lower level but most wanted about 67% of face value. Face value for most of the tickets was over $100. I finally settled on two $70 tickets for $40 each in section 126.
Our seats in section 126 were great for the game but terrible for anything else. The entrance immediately next to us was for the Club Level. We could not use that entrance but had to walk down about 10 rows in order to walk up 15 rows to find the restrooms or concession stands. The ushers let "regulars" into the club level to go to the bathroom. We were not one of those lucky few.
Sacramento Kings at Golden State Warriors
My perception is that I always see the Kings play in Oakland. However, out of the 30 Warriors games I have attended, this was only the sixth against the Kings and the first since April 19, 1997 when the Warriors were playing at San Jose Arena.
This time around Sacramento defeated Golden State 104-103 as Warriors' guard Monta Ellis left for the hospital after falling directly on his head with 58 seconds left in the game.