San Jose Earthquakes are First Choice
It's not every day you choose to attend a MLS game over an MLB World Series Championship ring ceremony or an NHL game. But that is exactly what my Dad and I chose to do.
After visiting my grandparents in Santa Rosa Saturday afternoon, my Dad and I had to drop off my Mom and Dylan in San Carlos. The San Francisco Giants were home at 7:05 pm with their World Series Ring ceremony starting at 6 pm. But, we passed AT&T Park on the way back, so the Giants game was out. Plus, we were planning to attend the Giants game Sunday afternoon.
Next up was the San Jose Sharks or San Jose Earthquakes – both games started at 7:30 pm. Since we were planning to attend one of the Sharks playoff games later in the week, we chose to attend the Earthquakes game since they were only home one time during my visit.
Beg, Borrow and Deal
As we did last year, we parked in the parking lot closest to the stadium for $20. While my Dad parked, I looked for tickets. I received two free tickets from the family of Toronto FC player Dan Gargan.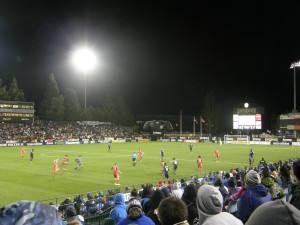 Toronto FC at San Jose Earthquakes
Both Toronto and San Jose scored in the first half and ended up with a 1-1 draw. The match had eight yellow cards.