White Sox Home Opener vs. Rays
After attending six straight Cubs games, it was time for the White Sox home opener. The game was scheduled for 1:10 pm this afternoon. Also, I am flying to San Francisco tonight as I wait at the airport. I scheduled my flight for Thursday night, so 1) I could make both the White Sox home opener and the Giants home opener on Friday afternoon and 2) that Dylan would sleep on the plane.
My planning was perfect. The only problem was how to attend the White Sox home opener and get home with enough time to pick up Dylan before heading to the airport. I am bringing Dylan to San Francisco since Nicole needs to concentrate on completing her dissertation and my parents can help take care of him.
Beg, Borrow and Deal
Tickets before the game were over face value on StubHub. As I was on the train, I overheard a guy mention his Dad had two extra tickets to the game. I said I was interested in buying a single and he said the price was around $50. I followed him into U.S. Cellular Field parking lot C and paid the season ticket holder face value of $55 – a good deal compared to the $100 the White Sox were charging for Premium Lower Box tickets.
Pre Game Dining
Since I bought a ticket quickly, I wandered over to Cork at the Park – the new bar that replaced Jimbo's Lounge. This place is now completely redone and is a "real" bar rather than a "dive" bar. Cork at the Park has a new menu for each home series where they pick out specials for the team that is in town.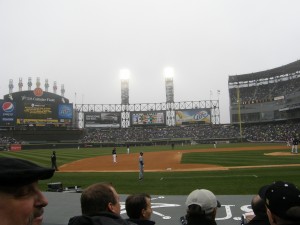 Tampa Bay Rays at Chicago White Sox
The White Sox took a 2-0 lead after the first inning and cruised to a 5-1 win in their first game at U.S. Cellular Field. The Rays extended their worst start in franchise history as the dropped their sixth straight to start the season. They also became the fourth team since 1919 to be held to one run or less in five of their first six games.
Post Game to the Airport
Remember my problem at the beginning of this post? I thought up many solutions, but the best one was to load up the babysitter's car, have her pick me up outside of U.S. Cellular Field after the game and drive us both to Midway airport. This way I would save the hour it takes me to head back north only to drive back another hour south to the airport. Thus, after the game, the babysitter picked me up outside of the stadium and we were off to Midway. We made it with plenty of time.