Ultimate Sports Baby: Diamondbacks at Cubs
Once again, I received free tickets from my friend who is having trouble selling them for these early games at Wrigley Field. Also, the Ultimate Sports Baby came to today's game for his second Cubs game of the season.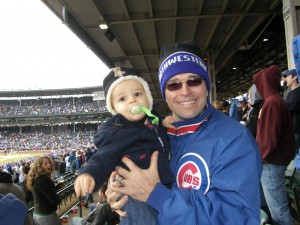 Arizona Diamondbacks at Chicago Cubs
The Diamondbacks avoided the sweep defeating the Cubs 6-4. Today was a miserable day for a baseball game. The temperature hovered in the 40's and there was a slight drizzle most of the day. The Ultimate Sports Baby was completely wrapped up and he must have been happy to sit on me and stay warm since he never really squirmed to get away as he did Sunday night at the Blackhawks game.
Post Game
After the game, I decided to go out to change things up. I ended up at Piano Man – a bar I rarely go to. Old Style Tall Boys were advertised for $5 on their signs, but were actually only $3 for some reason. I did not complain.