Ultimate Sports Baby's 1st Cubs Game of 2011
It was the only scheduled Monday afternoon game of the season. So it was time for the Ultimate Sports Baby to come to Wrigley Field for the first time this season. The temperature was not much warmer than Saturday, but Nicole was working on her dissertation on campus and I was not about to miss the game. Dylan's first baseball game of the season saw the Cubs defeat the Diamondbacks 4-1. The main highlight was the fan that ran on the field at the end of the game.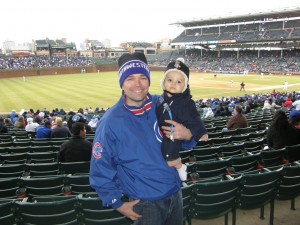 I have not seen a Wrigley Field look so sparse in years. Even though it was a cold Monday afternoon, the announced crowd was only 26,282 and, of those, not many people actually showed up. At least the seagulls decided to come out as about 50 of them hung out with Marlon Byrd in center field.