Ultimate Sports Baby Fidgets at Blackhawks Game
After attending the Cubs game, it was time to pack up the Ultimate Sports Baby and bring him to the United Center to attend his second Chicago Blackhawks game of the season.
Beg, Borrow and Deal
I went with a friend and his son so we needed to buy three tickets. We ended up buying three upper level seats for $130 total or $43.33 each. Face value on the tickets was $40 each.
Ultimate Sports Baby at the United Center
My idealized notion for this game was much different than realty. In theory, Dylan would have been just like he was at the game I brought him to on December 8. At that game, he sat calmly in his Baby Bjorn and just looked curiously at everything around him.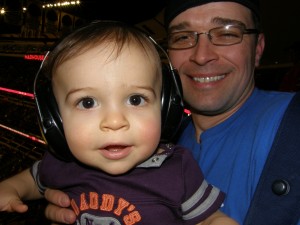 This game he was consistently squirmy and wanted out of the Baby Bjorn. He wanted to look, touch and play with anything that somebody sitting next to me had. The experience would have been better, but everyone showed up – meaning I was squished in my single seat with Dylan, the baby bag, jackets, etc. I finally moved up to the standing room area so Dylan could move around in peace. In retrospect, I should have hired a babysitter for the Blackhawks game and brought him to the Cubs game.
Tampa Bay Lightning at Chicago Blackhawks
The Blackhawks were shutout by Lightning backup goalkeeper Mike Smith as the Lightning won 2-0.