Chicago Fire Home Opener at Toyota Park
For the past two seasons, I have attended the Chicago Fire home opener. This year was no exception especially since the game was on a Saturday afternoon. Under normal circumstances I would bring the Ultimate Sports Baby with me to an afternoon game, but the temperature was in the 30's which is too cold for him to attend.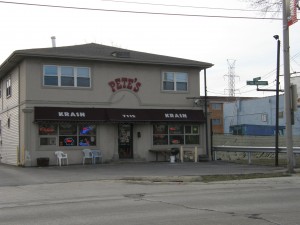 Pre Game Dining
Since I did not have the Ultimate Sports Baby, I decided to go to one of the bars around Toyota Park. I ended up at The Krash Inc. located at 7122 S. Harlem – a dive bar just south of the stadium. The main benefit of going here was that the owner of the bar told me I could park for free in his parking lot while I attended the game. Since beers are only $2 each that is a hard deal to pass up moving forward.
Beg, Borrow and Deal
I walked across 71st Street to Toyota Park. When I got to the main box office, I bought a ticket for $5 from a fan who had an extra ticket.
Sporting Kansas City at Chicago Fire
Chicago took 2-0 lead into halftime which was too much for Kansas City to come back from. The Fire won the game 3-2 but never gave up the lead.
Post Game Dining
Since I had parked for free I felt obligated to complete my end of the bargain which was to come back to the bar and buy one more $2 beer. It may not have actually been part of the bargain, but I also needed to warm up after sitting outside for two hours.