Women's NIT: Alabama at Northwestern
I wanted to attend the first round NIT game Northwestern hosted on Thursday night but was unable. Instead, Northwestern surprisingly won that game and was scheduled to host Alabama on Sunday. Game time was 2 pm – meaning I would be able to attend the women's NIT game before heading to the United Center for the 6:10 pm tip of the Men's NCAA Tournament.
Pre Game Dining
Nicole needed to work on her dissertation all day so my plan was to bring the Ultimate Sports Baby to the WNIT game. Before the game, I met Nicole and one of her friends from San Francisco for lunch at Buffalo Wild Wings located at 1741 Maple Ave.
Beg, Borrow and Deal
I had to buy a ticket from the box office since there are never any scalpers for women's college basketball.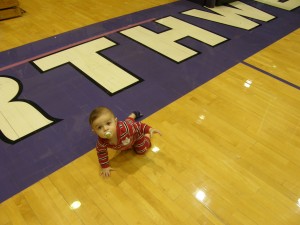 Alabama at Northwestern
Northwestern fell short in reaching the third round of the NIT tournament losing to Alabama 72-70. Meshia Reed's layup attempt was no good as time expired which would have tied the game for the Wildcats and sent it to overtime.