Session 2 Game #1: #14 St. Peter's vs. #3 Purdue
As I exited the arena, I began asking for extra tickets from the Purdue fans that were lined up at the gate to enter the arena. As I asked for extra tickets one young man said he had an extra and handed me the ticket. Since he was young, I was 1) surprised he had an extra ticket and 2) that he was giving it away for free. Turns out he worked for somebody at the Chicago Board of Trade who gave him the tickets. So he to giveaway the second ticket after he called all of his friends and none of them could go. That's something I would have done when I was younger.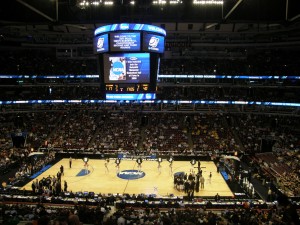 #14 St. Peter's vs. #3 Purdue
The gates finally opened for the second session about 6 pm and the first game of the session tipped off at 6:20 pm – not much time between allowing fans to enter the arena and starting a game. This game was nowhere near close as Purdue cruised to a 65-43 victory over St. Peter's.