Denmark Soccer: Lyngby at Brondby
On Sunday morning, I was off to Copenhagen. I was scheduled to take the 8:10 am bus to Gothenburg before transferring to the 9:27 am train to Copenhagen. But, once again I could not sleep so I got to the train station slightly before 7:40 am to see the bus to Gothenburg waiting – I guess the bus runs every 30 minutes. I realized that there is no train service to Boras on the weekend, which is why I took a train here on Friday but had to take a bus either last night or this morning.
I arrived in Gothenburg at 8:40 am and had about 45 minutes to walk around Gothenburg.
My train was supposed to arrive in Copenhagen at 12:38 pm but for some reason we were delayed in Malmo, Sweden for about an hour. We ended up arriving in Copenhagen shortly after 1:30 pm so I immediately walked to my hostel to check in. The delay was not that bad, since I could not check into the hostel until 2 pm anyway. I planned to stay at Danhostel Copenhagen City since it was a short walk from the train station and reasonably priced at 161 Kronas (plus 35 Kronas for a International Hostel one day membership card).
After checking in, I went straight back to the train station so I could get out to Brøndby for the Brøndby IF soccer match which kicked off at 4 pm. I had planned to buy a train ticket to Brøndby, but the trains are free on the first Sunday so I could just hop on.
Beg, Borrow and Deal
I arrived at Brøndby Stadium thinking I could buy a ticket from a scalper, but not speaking Danish did not help matters. Thus, I had to buy a ticket at the box office even though there were extra tickets on the secondary market. But, each time I tried to buy one, someone who spoke Danish beat me to the ticket.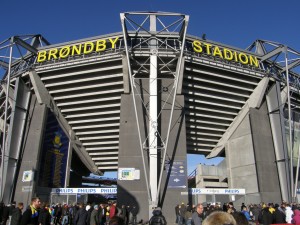 Lyngby at Brøndby
It was great to attend the first match after Denmark's three month winter break. It makes sense why they break for three months because it was cold at this game. Brøndby scored the equalizer in injury time to tie the game 1-1 which was the final score.
Post Game Dining
After the match, I needed to warm up so I went to Brøndby IF Cafeteria Klubhuset – basically the bar attached to the stadium. I stayed there for an hour before heading back to the train station.
Getting Back to Copenhagen
Of course, since I waited, getting back to the train station was not as easy as it could have been if I left right away and followed the crowd. I had to wait for a bus before getting to the train station. Luckily, there were a few other match stragglers who helped me out with which bus to get to the train station so I could get back to Copenhagen.
Copenhagen is a much better city to hang out in when you cannot sleep at night than Borås, Sweden. After napping for a few hours, I headed out to enjoy downtown Copenhagen. One place that was opened and had a good band was Streckers Pub & Brasserie aka The Old English Pub.
After that I ate at Shawarma Grill-House located at Frederiksberggade 36 at 2:30 am before heading back to my hostel for the night.