Saturday Davis Cup in Borås, Sweden
On Saturday there is only one doubles match. Thus, this is the most uninteresting day of Davis Cup tennis. Unless, of course, the doubles match is the deciding match and one team wins 3-0. Then Sunday is the most uninteresting day as neither singles match on Sunday matters.
I was pretty jetlagged so I was up most of Friday night. Thus, rather than touring Borås on Saturday morning I slept most of the morning and even woke up to the point where I had to rush to the arena to be on time.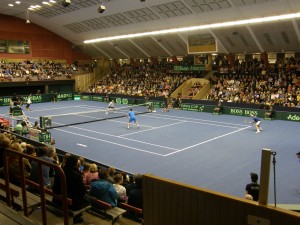 Davis Cup Saturday: Sweden vs. Russia
Sweden did not win the doubles match in straight sets. Sweden's Simon Aspelin and Robert Lindstedt defeated Russia's Igor Kunitsyn and Dmitry Tursunov in four sets which extended the day slightly. The win gave Sweden a 3-0 victory over Russia. But, both teams would still come back Sunday to play two best-of-3 singles matches. It is a good thing I already planned to go to Copenhagen on Sunday.
Post Game Dining
After the match I went to The Bishops Arms. This pub is one of the closest to the arena that is still in the city center. However, after realizing it cost around $11 (63 Kronas) for one beer, I decided I would tour Borås since I missed it earlier in the afternoon.
Borås is not in the tour book but is a great Swedish town. They have a great park in the middle of the city, shopping and many places to eat and drink.
After touring, I decided that I wanted pizza for dinner. Close to my hotel was Restaurang Pizzeria Alléterrassen located at Allegatan 32. The restaurant had a Kebab Pizza (75 Kronas) which was basically ordering a Kebab plate at a Greek restaurant but in a pizza form – it was delicious.