Day in Stockholm: Skellefteå at Djurgårdens IF
I landed in Stockholm close to my arrival time of 7:50 am which was not necessarily a good thing. I got through customs and decided to take the bus to downtown Stockholm. I thought the train would be a good option. However, the cost for a one way ticket was 240 Swedish Kronas and the bus was only 119 Kronas. At first, I thought this would only cost me $10, but then I remembered the exchange rate was around 6 Kronas per US Dollar – meaning it actually cost me $20. Then, I was VERY thankful that I did not take the train since the one way ticket would have cost me $40 (instead of the $20 I thought it would cost).
Since I arrived at the main train station early, I thought it would make sense to buy my train ticket for the next morning to get to Boras, Sweden for Davis Cup Tennis. What I realized is that I had made a big mistake. Rather than booking the ticket for $60 while I was in the states, I waited until I arrived in Stockholm which cost me money. I ended up paying 560 Kronas for the train ticket which cost me around $90.
Next, I was off to the City BackPackers Hostel. Based on reviews this was one of the best hostels in Stockholm. Of course, you probably needed to be in college which I will get into later. But, it was way cheaper than the hotels in Stockholm. The hostel only cost $46.54 after fees while hotels were well over $200 per night. Plus, since it was my first night in Sweden, I figured I would have jetlag so it did not matter where I slept.
The only downfall of the hostel was that I was not allowed to check in until 2 pm – meaning I was "forced" to tour around Stockholm for several hours before heading back to the hostel. Stockholm is a beautiful city but when it is only 30 degrees outside one gets cold pretty quick. By 10:30 am, I was looking for the nearest restaurant to eat lunch. Once again, the problem was that none were open. Not my idea of a great time.
Once it hit 11 am, I started looking for a restaurant. I walked through the main shopping district and found a Ticnet outlet. I knew there were only a few tickets remaining for the Djurgårdens IF last home game of the season. I bought a ticket from the "Ticketmaster" outlet for 265 Kronas ($41.99) since I was afraid I may sleep late after getting to the hostel. I wanted to be sure I could get into the game even if I arrived late.
At noon, I continued past the hostel and finally found a great restaurant – Tegnérs Gömställe. This place is located at Upplandsgatan 17 and features the largest selection of Swedish beer in the world. It also had a lunch deal for only 80 Kronas. The food was amazing and the restaurant was outside of the main tourist area – meaning the clientele were mostly business folks. Plus, it had great Swedish food.
After dining I headed back to the hostel to shower and get into my room early. As I expected I slept until 5:30 pm. Once I woke up, I quickly walked to the subway station to get to the hockey game on time.
Beg, Borrow and Deal
To my disappointment, there were many ticket scalpers as I approached Hovet Arena. I probably could have bought a ticket for $10, but never asked any scalpers to see how much tickets were.
Pre Game Dining
Although I did not eat, the mall by the stadium has plenty of pubs and restaurants to eat at. Consider dining in any one of them.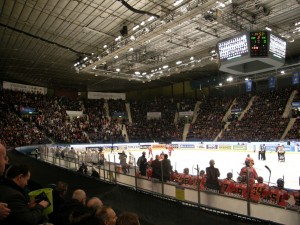 Hovet Arena's Alcohol Policy
Hovet Arena is adjacent to the Ericsson Globe Arena where the NHL Premier games are played. It is easy to find your seat in the arena.
As is the case with other international hockey arenas, they have bars where you can buy alcohol during intermissions. However, in Sweden you can bring a beer to your seat but it is supposedly "low" alcohol beer of 3.5%. I actually think 3.5% is relatively high. The main three brands of beer (Bud Light, Miller Lite, and Coors Light) that you find in most stadiums and arenas in the United States have alcohol content of 4.2%. So you are not losing too much in order to enjoy a beer in your seat.
Skellefteå at Djurgårdens IF
Djurgårdens IF defeated Skellefteå 3-1 in a game that had a similar atmosphere to an NHL game.
Post Game Dining
After the game, I headed straight back to downtown Stockholm. I wanted to go to the original Ice Bar in the Ice Hotel. The cost of entry was 180 Kronas but since it was the only tourist attraction I was paying for I felt it was worthwhile. Ice Bar is definitely worth the price of admission even though there are other ones around the world. The best place to have a drink is at the Ice Bar in Stockholm, Sweden.