President's Day in Rockford, Illinois
21 February 2011
No Comment
Last year I spent President's Day driving to Rockford. This year was no different as the Rockford IceHogs hosted Peoria at 2:05 pm.
Beg, Borrow and Deal
As opposed to last year where I had to buy a ticket from the box office, this year I asked a group of people if they had an extra ticket. They did and handed me the ticket for free.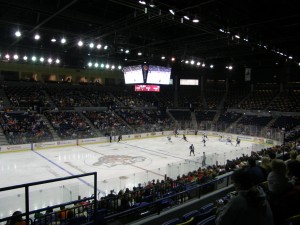 Peoria Riverman at Rockford IceHogs
Peoria jumped out to a big lead 4-1 lead in the first period which was too much for the IceHogs. Graham Mink scored four goals for Peoria which may be the first time I have seen one player score four goals in a single game. Peoria won the game 6-3.