Sunday Afternoon Hockey: Penguins at Blackhawks
20 February 2011
No Comment
Dylan was healthy and released from the hospital Saturday morning so it was business as usual over the weekend. Since Sunday afternoons are my favorite time to attend a Chicago Blackhawks game, I was not about to miss the Penguins coming to town in a 2:30 pm start time.
Beg, Borrow and Deal
Realizing that it would be nearly impossible to find a ticket from a scalper that matched the $27 standing room only price point, I purchased an SRO ticket once I realized they were available at the box office. This saved me the hassle of negotiating with scalpers and I knew I would find an empty seat inside the United Center.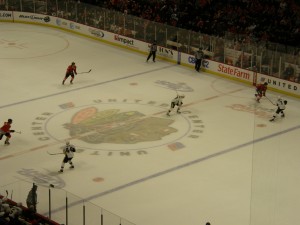 Pittsburgh Penguins at Chicago Blackhawks
Sidney Crosby was out of the lineup due to a concussion he suffered on January 5. The Penguins and Blackhawks both scored two goals in regulation as the game ended up in a shootout – the second one I have attended this season. Patrick Kane scored the only shootout goal to give the Blackhawks the win.