SAP Open Semifinals in San Jose
13 February 2011
No Comment
Once again, our plan today was to attend the afternoon session for the SAP Open semi-finals. However, I learned from my mistake yesterday and checked the schedule of play first thing in the morning. I learned that Gael Monfils withdrew from the match due to an injured left wrist. So, instead of a semi-final match, Milos Raonic played an exhibition match against Ivo Karlovich, which would then be followed by a doubles match. Boring! There was no way I would attend that, so we changed our plans to attend the evening session.
This is another example of why you should never buy tickets ahead of time unless you absolutely have to. If we had bought tickets to the afternoon session, we would have 1) been forced to sit through an exhibition match or 2) waste the money we spent since the tournament did not offer refunds. Instead they offered a free ticket to the 2012 semi-finals – an event I will most likely not be able to attend.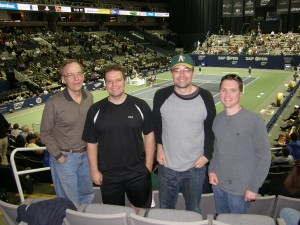 Beg, Borrow and Deal
Buying tickets for the evening session was not that easy as most fans approaching the arena knew they could save money buying from scalpers. This kept the "secondary" market prices higher than I would have liked but still lower than the box office price. We eventually paid $50 each for four tickets in section 106, row 13. Face value for these seats was $100, although face value for seats 4 rows back (rows 17-24) was $71.
SAP Open Semi-Finals
Tonight the singles match was first. I am sure tournament officials know fans do not want to sit through a doubles match and watch a singles match late at night. Fernando Verdasco defeated Juan Martin del Potro in straight sets 6-4, 6-4.
We did stay for the doubles match where Alejandro Falla and Xavier Malisse defeated Mark Knowles and Michal Mertinak. The rules for doubles have changed where if the match is tied one set apiece after two sets they play a tie-breaker third set to 10 points. Falla and Malisse won the "third" set tie-break 10-4.