Afternoon in Oklahoma City: Heat at Thunder
31 January 2011
No Comment
In a miraculous turn of events, I felt somewhat ok when I woke up Sunday morning for my 8 am flight to Oklahoma City. This was a day that could have turned into a disaster. I was flying solo with the Ultimate Sports Baby to Oklahoma City Sunday morning, attending the Thunder game at noon, then flying back to Chicago Sunday evening. Not many people would take their nine month old son on a trip like this but I had no choice but to continue at this point.
My only savior was my second cousin who was a senior at the University of Tulsa. He was joining me for the game and picking me up and dropping me off at the airport.
Beg, Borrow and Deal
I needed two tickets for the game – one for me and one for my cousin who was meeting me in Oklahoma City. However, rather than buying outside of the arena as I usually do, I bought two singles from Ticketmaster a few days before the event for the following reasons:
1) My plane was scheduled to land two hours before tip-off. Any delays could cost me valuable time on the scalping market and if the flight was really late there may no longer be any tickets available.
2) I had the Ultimate Sports Baby with me – meaning it would be more difficult to buy tickets from scalpers since I would have to wheel him around in his stroller.
3) The same seats I paid $70 each for on Ticketmaster.com were ranging in the low $200's on StubHub – so even tempting the secondary market may not give me as low a price as I bought on Ticketmaster.
As luck would have it, my flight landed on time, my cousin picked me up and we were off to downtown Oklahoma City. We parked a few blocks from the arena for $5 and were out of the car by 10:30 am – plenty of time before the noon tip-off.
Pre Game Dining
From the parking lot we walked through the Cox Convention Center and found the Blue Line Restaurant within the convention center. We chose to eat there since it was directly across the street from the arena and had a high chair for the Ultimate Sports Baby.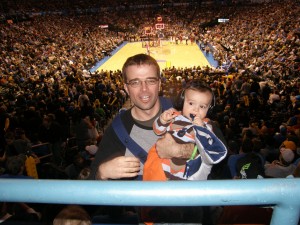 Miami Heat at Oklahoma City Thunder
It was a battle of top teams as the Miami Heat had LeBron James, Dwyane Wade and Chris Bosh together on the court for the first time in eight games. Miami's big three each scored 20 points or more and Eddie House hit the go-ahead three-pointer with 22.2 seconds left.
Kevin Durant missed a seven-foot jumper to tie the game with 14 seconds left. The Heat made three more free throws to win the game 108-103.