NFL Wild Card Weekend at Indianapolis
9 January 2011
No Comment
Last year at this time I drove down to Indianapolis twice to see the Colts in the playoffs. This year was no exception except for the fact they were playing on Wild Card weekend rather than later in the playoffs. This worked out for my schedule since the Chicago Bears are now playing on the Divisional Playoff weekend. For this road trip, I was able to get a babysitter so I was set to drive to Indianapolis for the evening.
Pre-Game Dining
I arrived in Indianapolis early to give myself plenty of time to go out before the 8 pm kickoff. I would have preferred an afternoon game so I would not have to drive back to Chicago so late but the late game would not deter me from attending.
I also wanted to go somewhere I did not go last year in my six visits to Indianapolis over the fall and winter. I decided on Claddagh Irish Pub (corner of Meridian St. and Jackson Pl.) even though I went there in Columbus before the USA-Mexico World Cup qualifier on February 11, 2009. Claddagh's was completely packed with Jets fans. Since there was nowhere to sit, I went next door to Ike and Jonesy's (located at 17 W. Jackson Pl.) for dinner before the game. I ordered the Sloppy Joe which was on special.
Beg, Borrow and Deal
This time around I figured I could negotiate better before the game than I did in my visits to Lucas Oil Stadium last year. I ended up buying a ticket in the upper deck with a face value of $105 for $50. I actually bought it from a fan that travels in from Baltimore for most of the Colts home games. I have heard about these fans for the Oakland Raiders but never for the Colts. I mean at this point just go to Ravens games!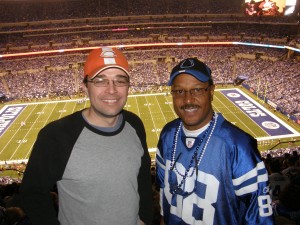 New York Jets at Indianapolis Colts
It was a repeat of the AFC Championship game in Indianapolis from last season. However, it was Wild Card weekend and the Jets defeated the Colts this time around with as Nick Fold kicked the game winning field goal with no time left in the game. This was only the second "win-or-lose" kick in NFL history – meaning there was no time on the clock and the kicking team would either win or lose the game based whether it was good. That maybe a dumb stat but it gave the Jets a 17-16 victory.