Road-trip with Ultimate Sports Baby: Northwestern at Illinois
7 January 2011
No Comment
On October 17, 2008 I drove to Champaign, IL to see the Chicago Bulls play a pre-season game at Assembly Hall for the first time since 1989. I thought this would replace my need to attend an actual Illinois men's basketball game. But with Illinois hosting Northwestern last night, I decided I wanted to go. However, I had an issue. Nicole was not going to be home and all three babysitters we normally use could not babysit Dylan. Plus, to make matters worse, Nicole needed the car Dylan rides in.
Thus, there was only one thing to do if I was going to go. I packed up the baby bag, stroller and car seat and rented a car in order to safely drive the Ultimate Sports Baby from Chicago to Champaign for the game.
Pre Game Dining
I arrived in Champaign around 5 pm. The game started at 8 pm so I had plenty of time to find a restaurant in order to feed and change Dylan and get some food myself. I decided to eat in downtown Champaign rather than on Green St. where most of the students go. I chose Guido's Bar & Grill since they had a high chair and the restaurant was not too crowded.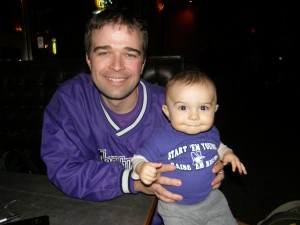 Parking
I parked for free in the same lot I parked in for the Bulls game over two years ago. But, now I still had a problem. Assembly Hall does not have a stroller check so I had to put Dylan in the baby bjorn, wrap him up in a blanket and swiftly walk in 20 degree weather to the arena. Luckily, I called ahead of time so I knew what to expect. Otherwise I would have been forced to walk back to the car.
Beg, Borrow and Deal
Now remember the Big Ten has a stupid rule where everyone, no matter their age, needs to have a ticket for admittance to the arena. In this regards, Illinois is more advanced than Northwestern as they have an infant ticket for $5. Northwestern charges regular price for infants.
As I approached the arena I passed a scalper who wanted $10 for a $25 ticket. Since it was so cold out I agreed without negotiating. Then I asked if he would sell me another one for $5 since that was how much it was at the box office for Dylan. The scalper agreed so I bought two tickets for $15.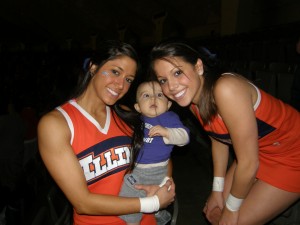 Northwestern at Illinois
Illinois shot a school record 70.5 percent from the field as Illinois crushed Northwestern 88-63. That's about all there is to write about this game. At least the Ultimate Sports Baby got a picture with some Illinois cheerleaders.