Doubleheader with Gary Herman: Jets at Bears
27 December 2010
No Comment
The last two Bears games were pushed to 3:15 pm starts. Today the game was kept at noon which was great so we could also make it to the Chicago Blackhawks game that was scheduled to start at 6 pm.
Last night Gary Herman (who runs royaltytours.blogspot.com) flew to Chicago to attend today's doubleheader of the Chicago Bears and Chicago Blackhawks. Gary had planned this trip for awhile since the Bears were hosting the Jets and he is a diehard Jets fan. Since Parking Pass Mike sold his tickets and parking pass for the Bears game there was no tailgating and we did not go out ahead of time. That was not necessarily a bad thing since it was going to be a long day.
I met Gary on the corner of Wabash Ave. and Roosevelt St. which is right next to the Roosevelt Red Line Stop and we walked to Soldier Field.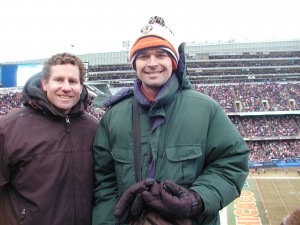 New York Jets at Chicago Bears
Once again it snowed during the first half of the game. I now realize I should be careful what I wish for. Two weeks ago, I was excited that the weather would be terrible for the Patriots and Bears game because I had not attended too many games in inclement weather. This was now the third straight game where it was cold and snowy and it was starting to get tiring. In fact, I could not believe that Gary continued to take stats throughout the cold rain and eventual snow.
The Bears and Jets played a shootout for the first three quarters as the Bears took a 38-31 lead heading into the fourth quarter. A failed fake punt by Mark Sanchez to start the third quarter and two great returns from Devin Hester highlighted the second half. The Jets only managed three points in the fourth quarter and lost 38-34.