Blackhawks Tickets are Cheap…Just Wait
27 December 2010
No Comment
After the Bears game I needed to buy the wife tickets for the New Year's Eve showing of a White Christmas. Plus, Gary was getting a ride from the guy we were attending the Blackhawks game with – Bob DeVries. He asked me if I wanted a ride but I said no thanks – knowing that getting out of Soldier Field parking lots is a nightmare.
After going downtown, I took the #20 bus down Madison Ave. I got off at Loomis St. because I saw the Palace Grill – a place I have always wanted to go, but always forget about. While I was eating, Gary texted me and said they were at Billy Goat Tavern. Once I was done eating I walked the two blocks to Billy Goat.
Beg, Borrow and Deal
I made the mistake of not responding to any emails between Bob and Gary about buying tickets. So Bob went ahead and bought four tickets from Ticketmaster.com for $45 each plus whatever the Ticketmaster fees were. In his email, he wrote that Blackhawks tickets were next to impossible to get but he was able to get them at face value…uh, not true.
My mistake was not responding to say wait to buy tickets until we got to the United Center, because Blackhawks tickets are not impossible to get. This is a fallacy that the Blackhawks want fans to think. Plus, the news leads you to believe it as well since they want a news story.
As I wrote last week, I bought a $65 face value ticket for $25 and tonight would have been no different since it was the day after Christmas and the Blue Jackets are not a draw.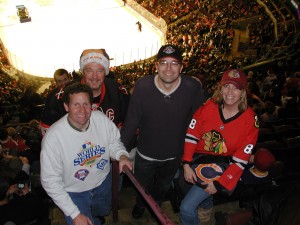 Columbus Blue Jackets at Chicago Blackhawks
Corey Crawford was out with the flu so Blackhawks' backup goalie Marty Turco got the unscheduled start. Turco almost had the shutout until the Blue Jackets scored with 2:26 left in the third period. Turco still got the win as the Blackhawks defeated the Blue Jackets 4-1.