Ford Field: Bears at Lions
6 December 2010
No Comment
When deciding where we wanted to go this weekend there was two main reasons to go to Detroit. First, the Bears were playing the Lions. Second, skaters from Nicole's ice rink were participating in a synchronized skating competition in Dearborn, MI on Saturday night. Thus, with two good reasons, we chose Detroit.
As I wrote yesterday, we were staying at the Westin Book Cadillac Detroit which was a short walk to Ford Field. After eating brunch in the hotel, the Ultimate Sports Wife and Ultimate Sports Baby took a nap while I walked over to Ford Field to buy tickets. For some reason, even though there were a lot of extra tickets around the stadium, most scalpers were holding out for the big bucks. I finally gave up and starting walking back to the hotel. I figured I would wait it out to see what was available when the three of us came back. However, on my walk back, I found a scalper willing to part with his tickets for $40 each (face value was $50 each). I bought the tickets and walked back to the hotel.
The other nice thing about staying close to the stadium was that the Ultimate Sports Baby could sleep longer before having to leave for the game. We got ourselves ready, dropped our bags off with the hotel bag check and hopped in a $5 cab over to the stadium (it was too cold for Dylan to make the walk).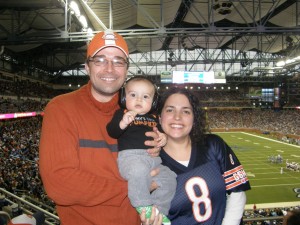 Chicago Bears at Detroit Lions
The Bears won their second game this season against the Lions with a controversial call. Ndamukong Suh was called for unnecessary roughness against Jay Cutler which gave the Bears a first down at the Lions seven-yard line. The Bears scored and took the lead 24-20 which ended up being the final score.
Post Game Driving
After the game we walked back to the hotel, grabbed our bags, hopped in the car and made the drive back to Chicago.