Sneaking Into the United Club: Eagles at Bears
29 November 2010
No Comment
With the Chicago Bears and Philadelphia Eagles both sitting at 6-3 in the standings, FOX changed the game time from a noon start to 3:15 pm. Since my friend, Mike Holzman (who I guess we now need to start referring to as Parking Pass Mike), had his parking pass for the South Lot we were planning to tailgate. The game time change meant we got out to the parking lot at noon rather than 9 am – a much needed delay.
But, once again, without the Ultimate Sports Wife attending, our tailgate was paltry. We had plenty of beer but not nearly enough food. So we ended up finding another friend of mine, Dan Logan, who is a partner of the Halas Hauler. They had some scraps left, so we managed to get some more food before the game.
Sneaking Into the United Club
The process of sneaking into the United Club today was the exact same as the first game of the season. First, the "regular" line was too long for us to wait in, so we decided to avoid that line and go through the United Club ticket holder line. Second, once again, there was a gap between the gate and the wall where we could sneak through to get into the club. Third, we grabbed a table inside where we could stand up and watch the game.
The only difference this time around was that at halftime, we found a guy who had a couple extra seats by him in the first row of section 214 – great seats. So we were able to sit there for the second half of the game rather than watch the game through the window.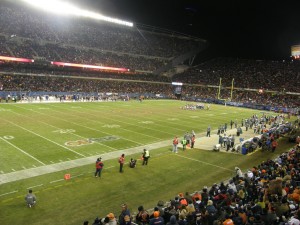 Philadelphia Eagles at Chicago Bears
The Chicago Bears scored twice in the first quarter to take a 14-3 lead and never looked back. They took a 31-13 lead into the fourth quarter where the Eagles tried to make a comeback but the lead was too large. The Bears won the game 31-26.
Jay Cutler matched a career high with four touchdown passes and Michael Vick threw his first interception of the season.