Camp Randall: Northwestern at Wisconsin
27 November 2010
No Comment
This game has been on my radar for a long time. I want to attend a game at each Big Ten football stadium but my preference is to attend a Northwestern road game. Since Nicole and I were not going anywhere this year for Thanksgiving, this was a perfect opportunity to attend a game at Camp Randall since Wisconsin was hosting Northwestern on the Saturday of Thanksgiving weekend.
My original plan was to drive to Madison on Saturday morning, attend the game and drive home after the game. However, on Friday afternoon my friend, T.J. Oleksiak, texted me stating he was in town from Washington D.C. but not staying long enough to hang out. They were there to visit his girlfriend's relatives. After a few more texts, he said he was heading back to Madison, WI since they were visiting his girlfriend's parents. Once we figured out that we were both going to be in Madison on Saturday plans started taking shape.
The drive to Madison was much shorter from Chicago than I originally thought. It took me 2 hours and 15 minutes where I thought it would be a short three hours. When I arrived at where my friend was staying, I found out his girlfriend's mom had hooked us up with tickets. They were basically at the 45 yard line and the best part was that they were free.
Pre Game Dining
After sitting at the house, meeting the parents, we were off for lunch. And, what I thought would be lunch actually turned into a pub crawl. We hit five places before the game.
1) First was a random outdoor area on the corner of Regent St. and Randall Ave. where we bought some hamburgers for the day ahead.
2) Jordan's Big Ten Pub – we chose this place because of their outdoor patio.
3) Nam's Noodle and Karaoke Bar – we went in here so we could warm up inside.
4) Lucky's Bar & Grille – another place with an outdoor patio.
5) Vientiane Palace Restaurant – we needed more food before the game and Thai seemed like a good choice. Plus, the restaurant was completely empty. Clearly, people do not want Thai food before a Wisconsin football game which I normally would not want either.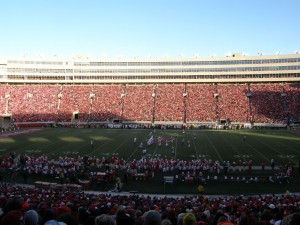 Northwestern Wildcats at Wisconsin Badgers
While I was meeting my friend's girlfriend's parents, I predicted that Wisconsin would win the game 70-24. I stated that because 1) Dan Persa is out for the season – meaning Evan Watkins was starting for Northwestern. 2) Wisconsin just put up 83 points against Indiana and scored 70 points earlier in the season against Austin Peay. And, 3), I was half joking.
The final score of the game was 70-23 so I ended up being one point off. Not a bad prediction and definitely the most points I have witnessed in a college football game. Plus, Wisconsin had this lead after the third quarter and took the foot off the gas as they did not score in the fourth quarter.
Post Game Dining
With Wisconsin ahead 70-23 after the 3rd quarter, we decided to take off during the 4th quarter and check out another bar before heading back to the house. We went to Stadium Sports Bar & Eatery which is the closest bar to Camp Randall.
After watching the rest of the game on their big screen (it was a good thing we left since there was no scoring in the 4th quarter), we headed back to the house but stopped off at Zu Zu Café for a bite to eat before I drove back to Chicago.