Alabama St. at Loyola Men's Basketball
23 November 2010
No Comment
With the wife out of town the Ultimate Sports Baby and I decided to take in the only game in town – Loyola Men's Basketball vs. Alabama St. Two seasons ago, I took in a men's and women's game at Loyola University – my first visits to the Gentile Center at the time.
I had to pay to park since I was with the Ultimate Sports Baby, but paying for parking is better than taking the train. It only cost $7 to park in the parking structure closest to the arena. Otherwise it costs $4.50 round trip to take the train and you save a lot of time.
As with any lower level event there is no secondary ticket market. Thus, you have to buy a ticket from the box office which is cheap for only $10.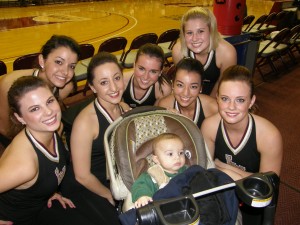 Alabama St. at Loyola
The Loyola Men's Basketball team are off to their first 6-0 start since 1979-80 after defeating Alabama St. 74-46.