Calm Sunday: Vikings at Bears
14 November 2010
No Comment
It was a calm Bears Sunday for the first time in a long time. I had no tailgating options since my friend, Mike Holzman, was in New Orleans for the game and my other connections were also missing today's game. Nicole on campus working on job applications so I was going to a Bears game solo for the first time ever. And, it was pretty relaxing.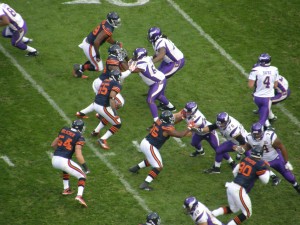 Minnesota Vikings at Chicago Bears
The game was also calm as the Bears got to Brett Favre and the Vikings. Favre threw three interceptions and lost a fumble as the Bears defeated the Vikings 27-14.