Another Northwestern Win over Iowa
13 November 2010
No Comment
Once again Northwestern was hosting an 11 am kickoff. However, rather than bring the Ultimate Sports Baby with me, I called Nicole's cousin from East Chicago, IN to come over and babysit. Thus, without the Ultimate Sports Baby with me I headed up to my usual tailgate early.
Beg, Borrow and Deal
In what may be my most convoluted ticket scheme in a long time – I ended up making money attending today's Northwestern football game. First, a fan contacted me through this website asking me the best way to buy tickets for today's game. The cheapest tickets on StubHub had hovered around $100 each for awhile before the game and the game was sold out. Also, the tickets this guy wanted were hovering around $200 each. However, I told him I would help him find four tickets together that would be cheaper then he could get on his own.
I showed up for my usual tailgate and started scouting out who was attending the game and who was not. I was banking that my friend Patrick (who gave me his tickets for the Purdue game) would show up with only his older daughter and not his wife and the infant twins.
Since this guy who contacted me was coming with his wife and two children he could easily use the "family" plan my friend had. But, then another friend of mine (who has four tickets near the 50 yard line) only needed two of his four tickets. Just then my brain started ticking. We could sell the four tickets at the 50 yard line to this guy and use Patrick's 5 tickets to get the rest of us in. The only trick would be that I would take one of the 50 yard line tickets so I could "get in" to Ryan Field but promise the fan he could use the ticket. And that's how everything worked – plus he (who turned out to be an Iowa fan which I should have known) bought all four tickets for $75 each.
Here is how the ticket distribution worked out:
Iowa Fan: 3 tickets at 50 yard line plus one child ticket = 4 tickets for $300.
Friend Patrick: 1 adult ticket and 1 child ticket plus he got the $60 back that he spent on the game.
50 yard line season ticket holder: 1 adult ticket and 1 child ticket plus he got the $160 back for the money he spent on the game.
Ultimate Sports Fan: 1 adult ticket plus received $80 to cover the cost to have the babysitter there to watch the Ultimate Sports Baby that morning.
All in all it was an exciting tailgate to buy and sell tickets and something that rarely occurs.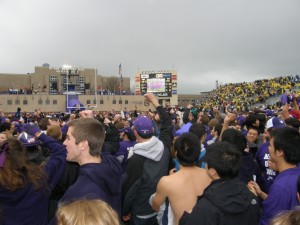 Iowa at Northwestern
Did anyone expect something different from this game? Northwestern has now defeated Iowa in five of their past six matchups (I attended the one defeat in Evanston in 2007). Northwestern rallied from down 17-7 in the fourth quarter to defeat Iowa 21-17. Dan Persa completed a touchdown pass with 6:21 and 1:22 left in the game in a great and exciting comeback for Northwestern.
Of course, the fans much not have thought we would win as they all rushed the field after the game in Northwestern tradition after a big win at home.