Champions League: Inter Milan at Tottenham
2 November 2010
No Comment
From a European perspective, the biggest event I was attending this week was the Champions League match between Inter Milan and Tottenham at White Hart Lane. Inter Milan were coming into the tournament as defending champions and the hype had translated into high ticket prices.
Beg, Borrow and Deal
As usual I showed up to the stadium with no ticket in hand expecting to buy a ticket from a ticket tout (most tickets online were well over £350 for the cheapest seats). Most touts on the street wanted more than £200 for a ticket which just seemed too much for a Champions League Group Stage match. But I also know that the market is the market and if you want to attend you have to pay market value. I finally found a guy who asked for a fair price and I offered him £150. We ended up agreeing on £160 for a £44 face value ticket.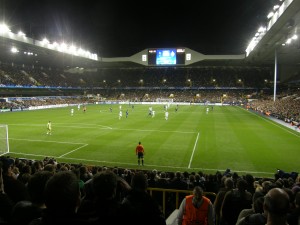 Halftime Hospitality
My ticket was in the last row next to what seemed to be a hospitality area. Since everyone in my row entered the hospitality area at halftime, I decided to follow them even though I did not "technically" have the pass. It was a nice place to wait in during halftime and I grabbed a free coffee. The area I ended up in was the Pat Jennings Lounge which is a pricey hospitality area in White Hart Lane.
Inter Milan at Tottenham
Tottenham scored goals in the 18th, 61st and 89th minute to hold onto the surprise 3-1 victory against Inter Milan as the crowd went crazy with every goal.