Day with the Arsenal Boys: West Ham at Arsenal
31 October 2010
No Comment
We landed in London on Friday morning and were planning to stay with our friends for five days. We chose London because our friends have a son eight months older than Dylan. Thus, it would be a good "first" trip to Europe to see how well we could travel. Arsenal was home against West Ham United on Saturday afternoon meaning I would be spending the day with the Arsenal boys.
Pre Game Dining
Nicole's favorite part of hanging out with the Arsenal boys is the great lunch we go to before the game. This time they chose the same restaurant we went to when we flew into London for a 14-hour layover before flying to Athens, Greece two years ago. Gem Restaurant located at 265 Upper Street in Islington is Kurdish food and one of Nicole's favorites.
Club Level at Emirates Stadium
Hospitality Jim and Big Chris gave me the option to either sit in the seat I have sat in before or to sit in the Club Level. Since I had never sat in the Club Level before I chose to sit there – although I believe I chose incorrectly. I had always heard there were free drinks when sitting in the Club Level but it is not really "free drinks." It is more like a free drink or two since you cannot have any drinks except for halftime. At halftime the drinks are lined up on a table and once the whistle is blown the race is on. I grabbed two beers but the effort and the worse seat location does not make it worthwhile – especially considering you can buy beer at halftime during EPL matches.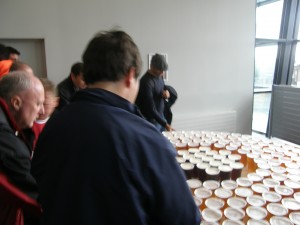 West Ham United at Arsenal
West Ham held Arsenal scoreless until Alex Song scored the game winning goal in the 88th minute which was a huge sigh of relief for Arsenal.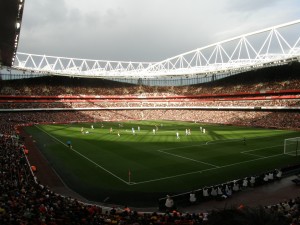 Post Game Dining
After the game we went to Litro Bar & Osteria which opened in February 2010. This place was great as it was right across the street from Emirates Stadium.
Hospitality Jim and I needed to meet the wives, kids and British Mick and Caroline on the Southbank. We hopped in a cab and 20 pounds later we were downtown. We decided on Strada for dinner which is in the main area.