Homecoming: Michigan St. at Northwestern
23 October 2010
No Comment
The Ultimate Sports Baby and I were off to Ryan Field as Northwestern hosted Michigan St. at 11 am for Northwestern's homecoming game. As usual, we tailgated in the west parking lot on the corner of Central St. and Ashland Ave.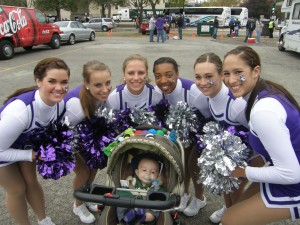 Beg, Borrow and Deal
I paid one of my friends, who I tailgate with all the time, $20 for his extra single (face value for season ticket holders is $36) rather than look for a free ticket.
Michigan St. at Northwestern
Northwestern took a 17-0 lead and was ahead 17-7 going into halftime. But Michigan St. proved too much for the Wildcats as they scored 28 second half points to defeat Northwestern 35-27.