Pricey Face Value: Canucks at Blackhawks
20 October 2010
No Comment
At the Bears game on Sunday, my friend Mike Holzman invited me to tonight's Chicago Blackhawks game. He said his Dad wanted face value for the tickets which I said fine. In the past (when Mike brought me for free) the tickets had a face value of $95 or so. He also said he had passes to the Ketel One Club which is an area I have never been to before in the United Center. I have been to the bar upstairs several times (when they still sell beer in overtime playoff hockey games), but I have never been to the coveted "downstairs."
However, to my surprise the ticket was actually $130!! And that was the season ticket holder face value. The ticket cost from the box office would have been $170.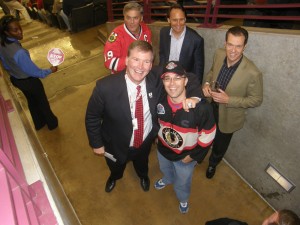 Vancouver Canucks at Chicago Blackhawks
The Canucks and Blackhawks played to a 1-1 tie through regulation and overtime and decided the game by shootout. Jonathan Toews, Patrick Sharp and Patrick Kane all made their shootout goals to give the Blackhawks a 3-2 advantage in the shootout to win the game 2-1.