Ultimate Sports Baby Attends 1st Soccer Match
16 October 2010
No Comment
It was a rare Saturday afternoon game for the Chicago Fire at Toyota Park – meaning the Ultimate Sports Baby and I were off to the game since Nicole would appreciate her usual nap after teaching skating on Saturday morning.
We arrived late to the game since Dylan napped later than I thought and we hit unexpected traffic on I-55 heading to the park. Arriving late is always nerve-wracking since there will be a lack of tickets on the secondary market (especially free tickets). I would never want to pay full price for a Major League Soccer match.
However, as luck would have it, I paid $15 to park and happened to park next to a car that actually had an extra free ticket. This goes to show you that buying cheap tickets or finding free tickets is all based on timing. By arriving earlier you increase your chances of receiving a better deal but it may take more time as people may be looking for money. As game time approaches they are more likely to give away their tickets.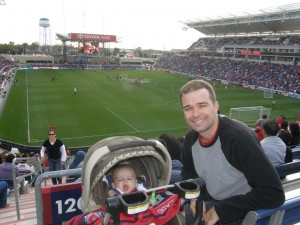 D.C. United at Chicago Fire
It was Brian McBride's final home game for the Chicago Fire since he is retiring at the end of the season. Since both the Fire and United are out of playoff contention it was basically a Brian McBride festival at Toyota Park. There were tribute videos on the scoreboard most of the game, he received a standing ovation when he left the game in the 89th minute and his family joined him on the field after the game.
Post Game Dining
After the game I decided to surprise the wife by stopping by Portillo's which is on route from the stadium to the highway located at 5532 S. Harlem Ave. in Summit, IL. They have a drive through so you do not have to take your kid out of the car to grab a meal.