Night Game at Ryan Field: Purdue at Northwestern
10 October 2010
No Comment
For the first time since September 15, 2007 Northwestern was hosting a night game at Ryan Field. Thus, even though the Chicago Blackhawks were raising their championship banner at the United Center and the U.S. Men's National Soccer team was playing Poland in a friendly at Soldier Field, we went to the Northwestern game – my third choice.
However, it became my first choice for three reasons. First, the Ultimate Sports Wife insisted that we attend the Northwestern football game. This was the first Northwestern football game she would attend since August 30, 2008. Most Northwestern games start at 11 am, which means she cannot attend since she teaches skating on Saturday mornings.
Second, the Ultimate Sports Baby was coming and Ryan Field is much more family friendly than the United Center or Soldier Field.  Third, we could tailgate.
Beg, Borrow and Deal
My friend Patrick bought the family plan (two adult tickets and three child tickets) this season in order to buy tickets to the Illinois-Northwestern game at Wrigley Field and was not using his tickets for tonight's game. In my opinion, there was no reason to buy season tickets in order to buy tickets to the Northwestern game at Wrigley Field since tickets to the game will be face value or less…but I digress.
He asked me if I wanted them so I drove over to his house to pick up the tickets. Since the Ultimate Sports Baby was also attending the game we only needed three tickets. We gave away the other two child tickets.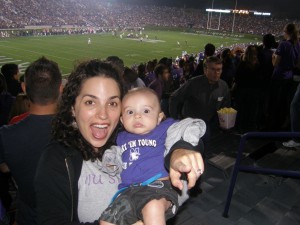 Purdue at Northwestern
Northwestern had a chance to match its best start in 48 years by going 6-0, but after Stefan Demos had one field goal blocked leading to Purdue's game winning drive and missed the game-tying field goal with 58 seconds left in the game Northwestern could only accept their 20-17 loss to Purdue.