Brunch at the Chicago Marathon
10 October 2010
No Comment
In the past we have not done the Chicago Marathon correctly. We wake up, grab some coffee, and head out to the corner of Broadway St. and Addison St. to watch the lead runners' whiz by and continue south. Then, we walk back home.
Today we remedied that situation. As usual, I headed out to the corner of Broadway and Addison to see the "elite" runners. But, rather than go straight home, the Ultimate Sports Wife met me with the Ultimate Sports Baby and we walked south down Broadway St. to Clark St.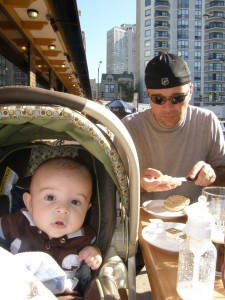 We did not know where we would stop but knew we would go no further than Mickeys Bar & Patio. We did find a better brunch place at 2600 N. Clark St. – Dunlays on Clark where we sat on the patio and could watch the marathon pass us by. This is a great way to experience the Chicago Marathon.