TCF Bank Stadium: Northwestern at Minnesota
2 October 2010
No Comment
Saturday morning started just as any college football Saturday should – tailgating before 7 am. However, the only trick was that the "tailgate" was hosted at my friend's house nowhere near TCF Bank Stadium. In his defense he did have a three-month old daughter and staying at home is much easier than venturing out. But, I still did not get to hang out with the crowds.
After eating burgers for breakfast we headed to TCF Bank Stadium. I drove my rental car since I was driving straight to the airport after the game. My flight back to Chicago took off at 5:14 pm so I had plenty of time to get from the stadium to the airport. I paid $20 to park and walked over to the stadium.
One of our friend's wives was supposed to attend the game as well. But she opted out of the game and since he knew I would not have a ticket asked me to buy his second ticket for $60. I said yes knowing that tickets would be cheaper outside of the stadium but it's always better to hook up a friend in need.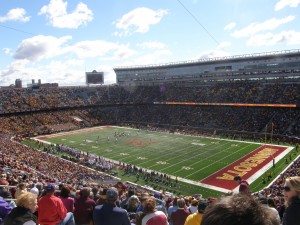 Northwestern at Minnesota
Minnesota took a 28-20 lead into the 4th quarter, but Northwestern successfully came from behind as Dan Persa threw a 25-yard touchdown pass to Jeremy Ebert with 8:17 left in the game but missed the two-point conversion. Then Stefan Demos kicked a 27-yard field goal with 2:07 left to give Northwestern the 29-28 win.