Monday Night Football: Packers at Bears
28 September 2010
No Comment
For the first time in awhile, the Ultimate Sports Wife and I did not tailgate or go out before or after a Bears game at Soldier Field – which actually made for a calm game day.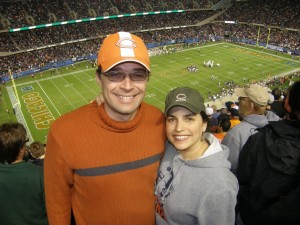 Green Bay Packers at Chicago Bears
It was Monday Night Football so we arrived at Soldier Field shortly after 7 pm and headed straight into the stadium. The Packers took a late first quarter lead after Greg Jennings caught a 7-yard touchdown pass from Aaron Rodgers. The Packers held onto the lead at halftime 10-7.
However, that changed when Devin Hester returned the first punt of the second half for a touchdown which gave the Bears a 14-10 lead. It was Hester's first punt or kick return for a touchdown since December 30, 2007.
With the game tied at 17 and the Packers with the ball, Brian Urlacher forced a fumble that Tim Jennings recovered with 2:18 remaining in the game. The Bears drove 45 yards to the Packers one-yard line before Robbie Gould kicked the game winning field goal with 4 seconds left to give the Bears a 20-17 victory.
Post Game Dining
Even though we had a babysitter for the night, we did not go out after the game (the Ultimate Sports Baby is still draining most of our energy on a daily basis). Instead, we went to Baskin Robbins (located at 1231 S. Wabash Ave.) for some ice cream and took the subway home.