Final 2010 Family Day at Wrigley Field: Cardinals at Cubs
24 September 2010
No Comment
It was the last game of the 2010 season that the Ultimate Sports Wife, Ultimate Sports Baby and I would be attending together. It was the 26th Cubs game the Ultimate Sports Baby has attended. We sat in the last section of the upper box down the left field line – a perfect spot if you are bringing a baby. First, you can take the elevator (located down the left field line) to the upper deck. Second, it is a short walk from the elevator to the upper deck box. And, with this season of sparse attendance the section is usually empty giving you enough room to place all your "baby stuff" in your row.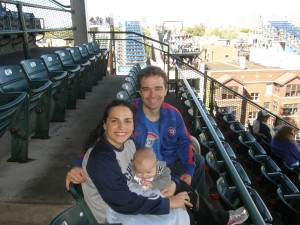 St. Louis Cardinals at Chicago Cubs
The Cardinals defeated the Cubs convincingly 7-1 as Adam Wainright earned his 20th win of the season.
Post Game Dining
After the game, we went to The Bad Apple in Lincoln Square located at 4300 N. Lincoln Ave. – less than two miles from Wrigley Field. The Bad Apple is known for their unique burgers and a good place to go if you want to get away from the Wrigley crowds.