Ultimate Sports Wife as Honorary Northwestern Coach
11 September 2010
No Comment
As I wrote Thursday night, the Ultimate Sports Wife was selected to be an honorary coach for today's Northwestern football game. The "honorary" coach gets to eat breakfast with head coach Pat Fitzgerald at the team's hotel, attend two pre-game meetings, and watch the game from the sideline.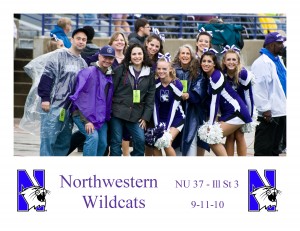 For me, this meant I had to attend the Northwestern football game with the Ultimate Sports Baby – alone. As usual, I met my friends for their pre-game tailgate. I parked for free on Colfax St. near the corner of Ashland Ave. I waited in the car and did "Dad stuff" for awhile since there was a torrential downpour as my friends were setting up the tailgate.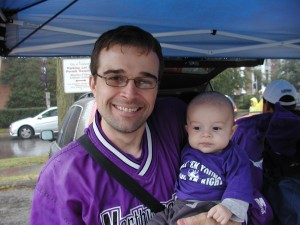 Eventually two of my friends had two extra tickets for the game so Dylan and I got in the game for free. Much to my dismay, Big Ten rules state that everyone needs a ticket regardless of age. This rule is aggravating, especially at Northwestern, where there is plenty of room to have children less than two years of age come in for free. Plus, Northwestern does not have a discounted ticket for children under two which would allow for infants to enter for a much lower price as other Big Ten schools have.
Illinois St. at Northwestern
Northwestern defeated Illinois St. handily 37-3 as Dan Persa threw two touchdown passes and ran for another TD.